If you would like to receive a copy of your statements for your records, it is easy to get a copy from the TruckSmarter app. Read on to learn how to quickly get your statements.
Email your statements
First, navigate to the Factoring tab. Then, tap the Wallet tab at the top. Scroll downwards until you see the Statements section. Tap the Email my statements button to send a copy of your statements to your email address associated with TruckSmarter. Lastly, open your personal email inbox to find the email — it will be sent from noreply@trucksmarter.com — it will contain statements for every month since you began factoring with TruckSmarter. From there, you can download the statement PDFs for your records. If you cannot find the statement email, please check your Spam inbox.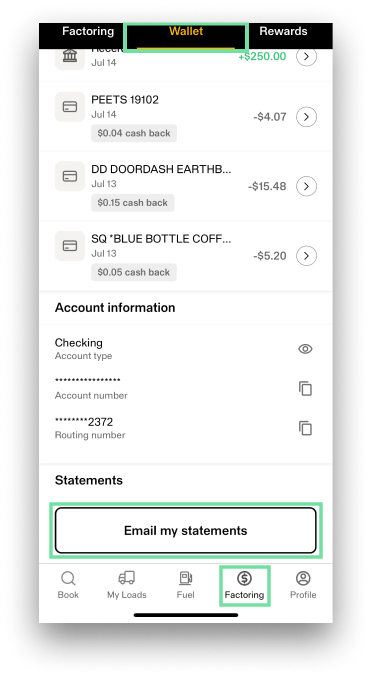 Statement availability
Statements for the previous month are generated at the start of a new month. For example, a statement for the month of June will not be generated until at least July 1st.
A statement will be created even if an account had no activity during a certain month.
When you sign up for TruckSmarter Factoring, a statement for that month would be created as long as it was created prior to 7PM (EST) on the last day of that month.
Transactions that do not occur prior to 7PM (EST) on the last day of the month will appear on the following month's statement.