TruckSmarter Fuel has partnered with independent truck stops across the country to give you the best fuel discounts. You do not need a fuel card to use TruckSmarter Fuel — you can book fuel directly through the TruckSmarter app. This article explains how you can start saving money by fueling smarter — read on!
View reservations and email receipts
🚚 1. Find a truck stop
First, navigate to the Fuel tab in the TruckSmarter app. To find a truck stop, you can either move the map with your fingers or you can search for a specific location. You can swipe-up from the bottom of the map to view a list of truck stops. Note that the truck stops in the list will automatically update as you adjust the view of your map.
When you have found a truck stop that you want to fuel up at, tap a truck stop directly from the list. Alternatively, you can tap the dollar amount displayed above the truck stop on the map: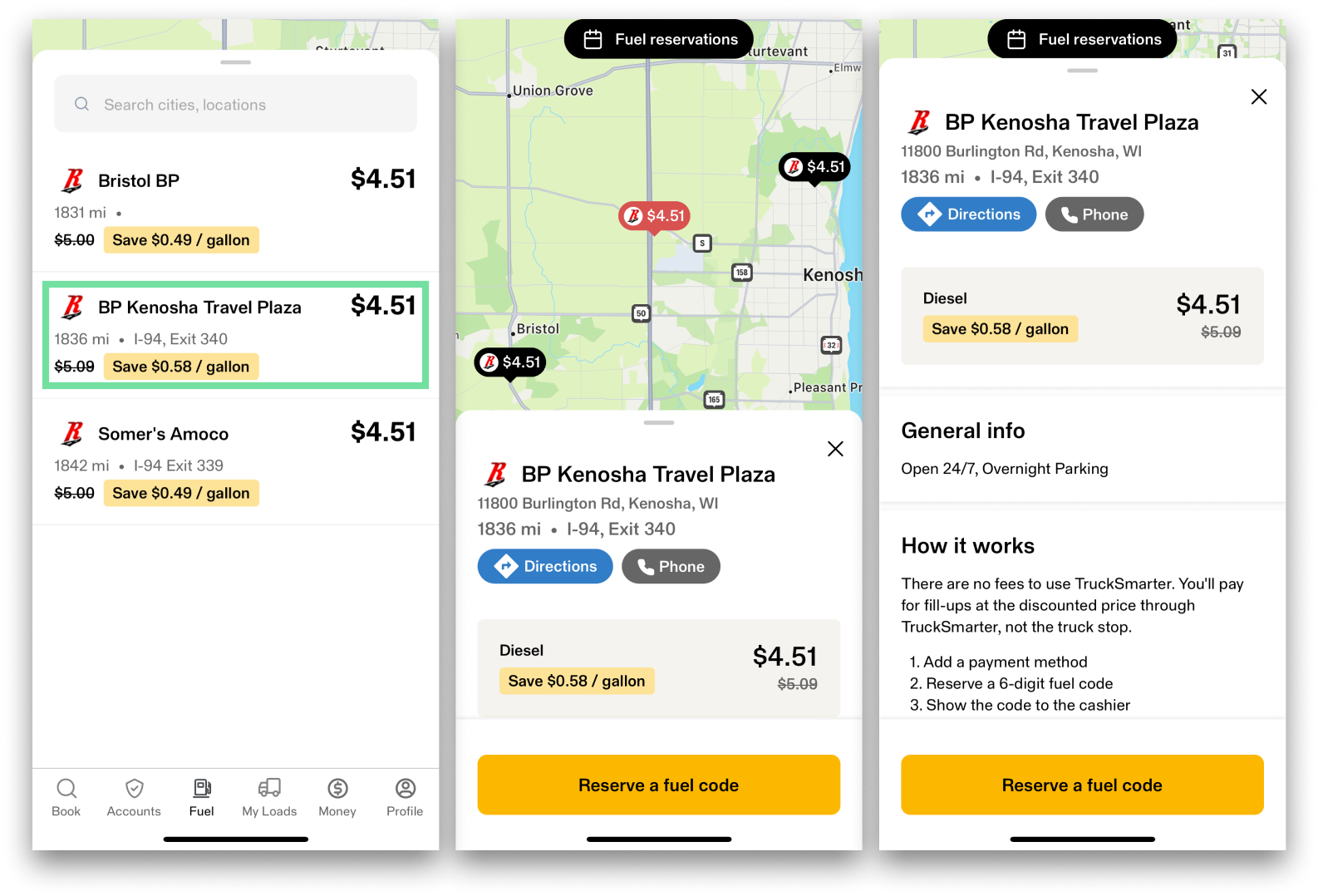 You can swipe-up to view more details about the truck stop, such as available amenities and the exact address: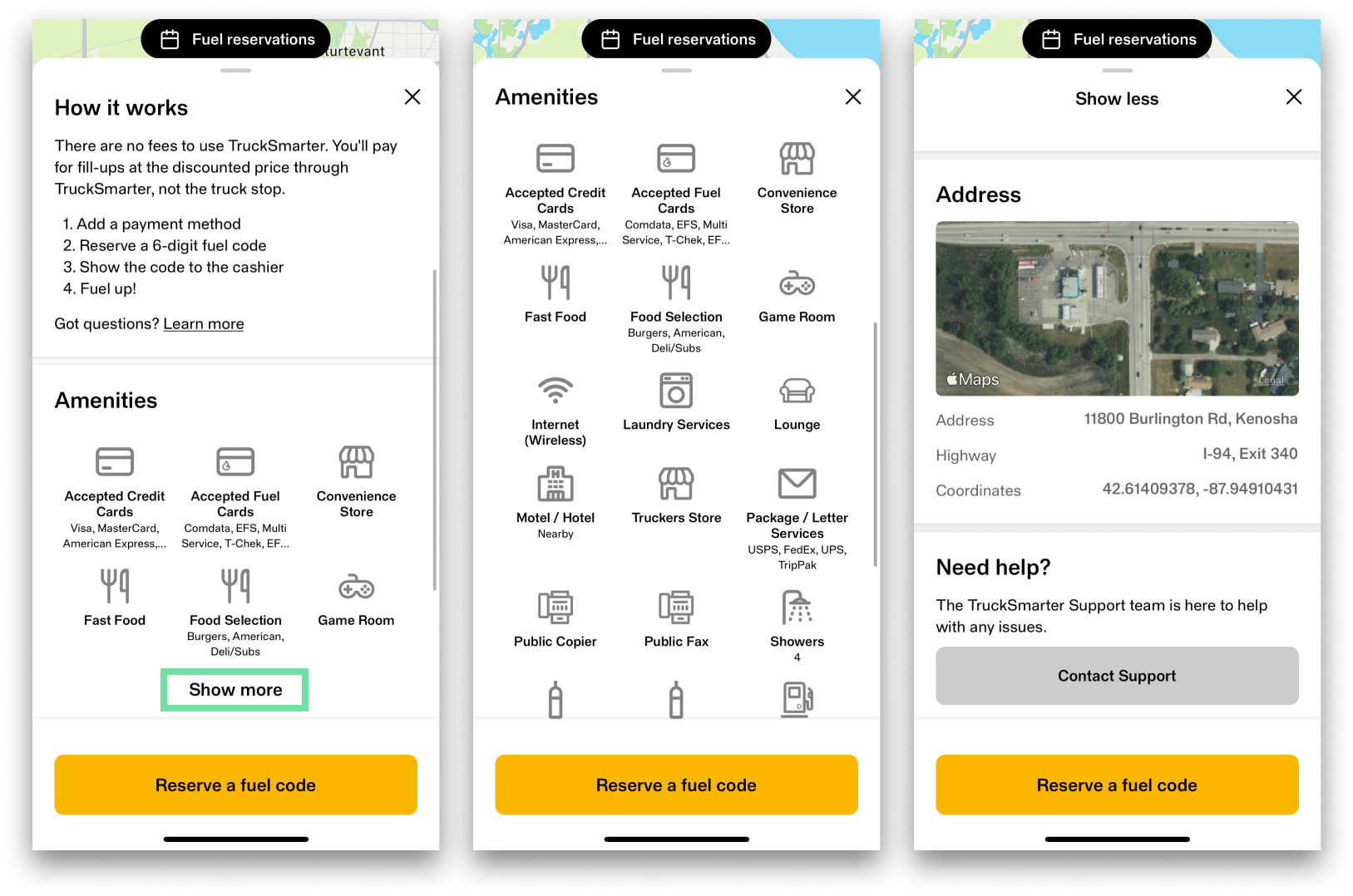 💵 2. Add a payment method
If you have already added a payment method, skip to step 3.
After tapping the Reserve a fuel code button, you will be prompted to add your payment method. Tap the Add a payment method button to enter your card details. When you are done, tap the Save button to finish adding your payment method.
You can pay with a debit or credit card issued by Visa or Mastercard, and you can earn a greater discount with your TruckSmarter Wallet. Existing TruckSmarter Factoring customers that pay with their TruckSmarter Wallet get a bonus $0.10/gal discount! Please note that you must have a minimum account balance of $250 to use your TruckSmarter Wallet as a payment method.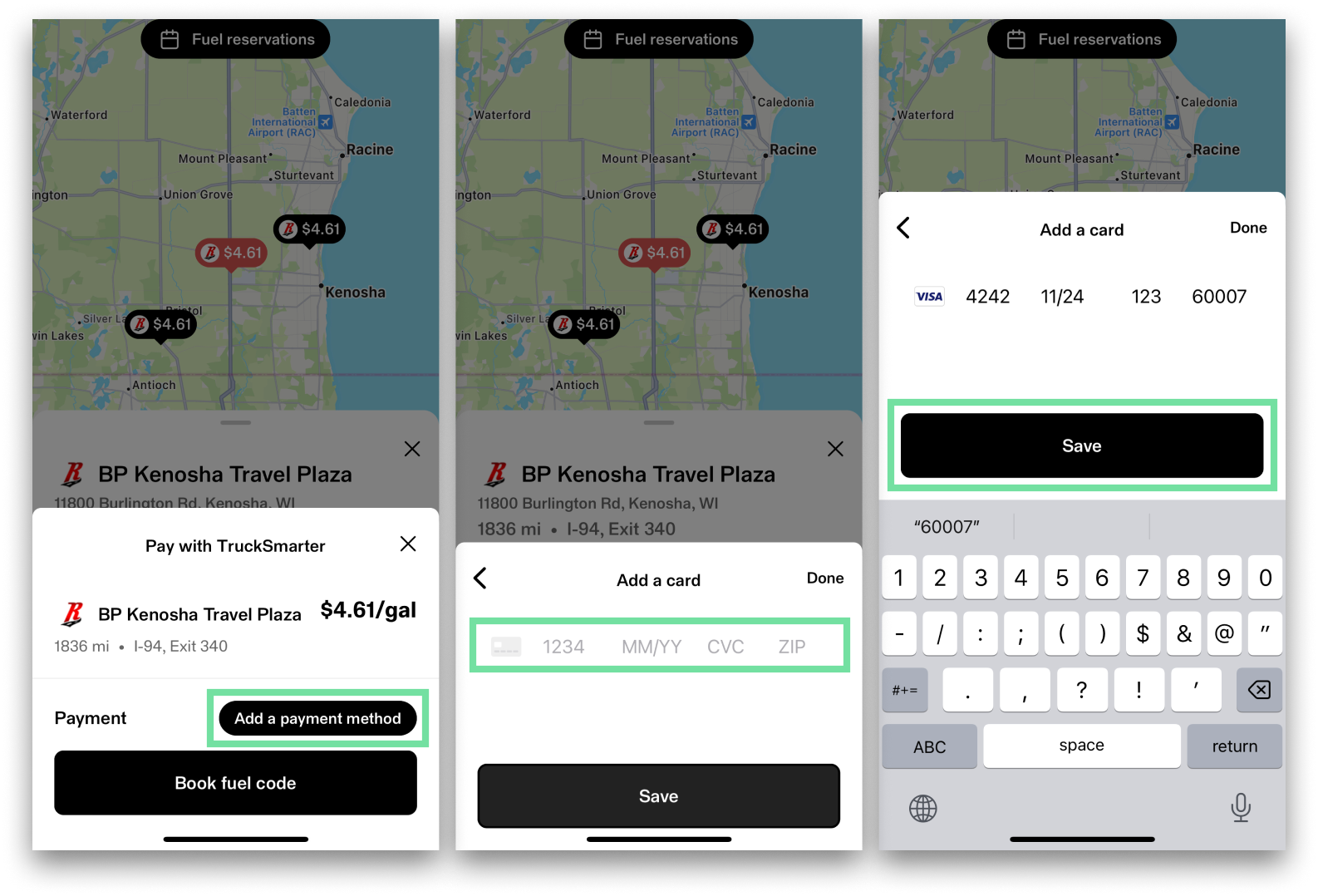 🎟️ 3. Reserve a fuel code
Once you have selected your payment method, tap the Book fuel code button reserve a fuel code: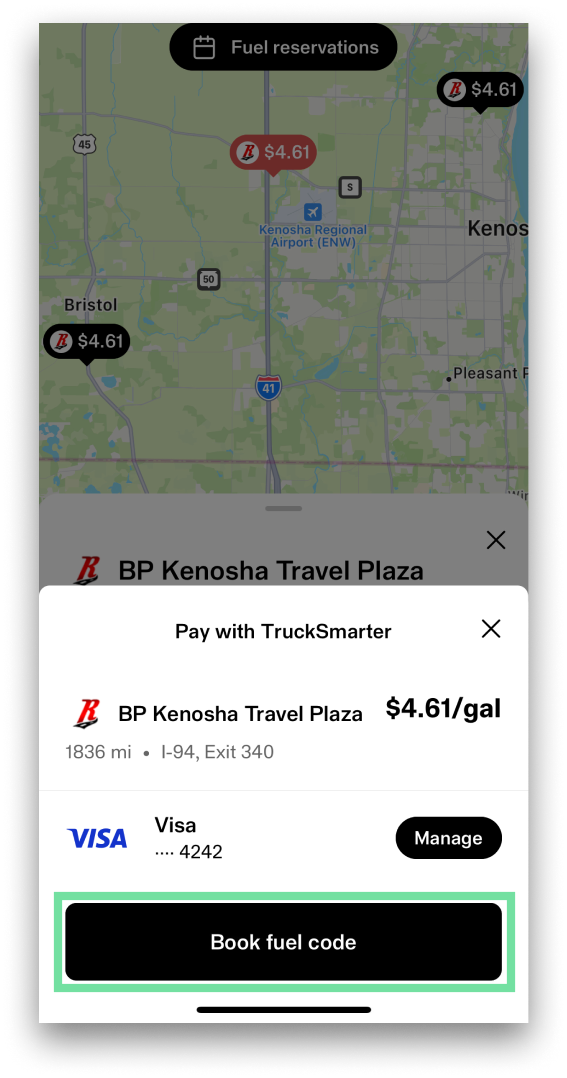 The TruckSmarter fuel code will be an alphanumeric code: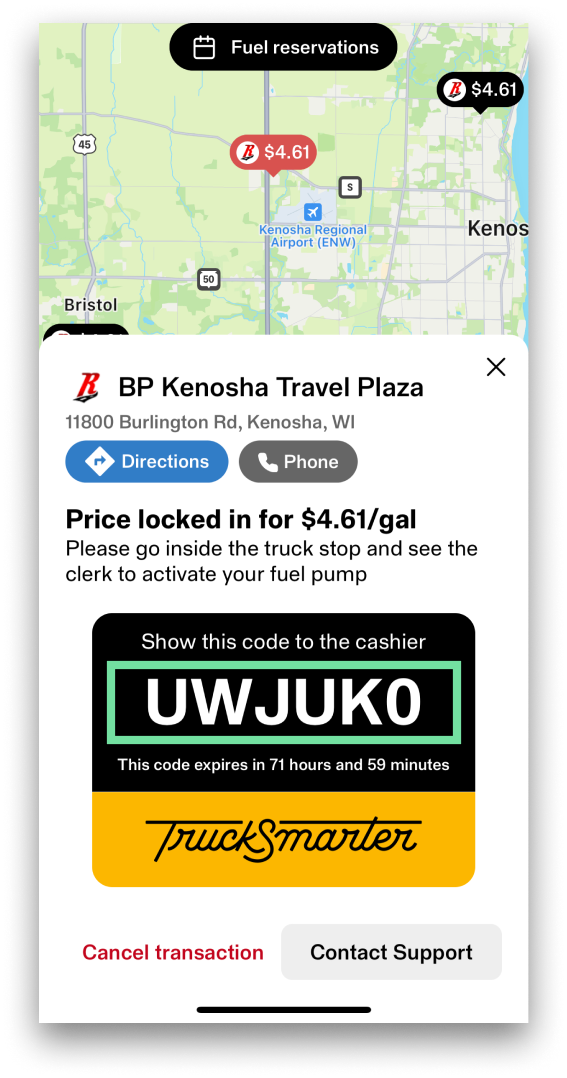 🕒 Note that fuel codes expire after 24 hours!
⛽ 4. Fuel up
Enter the truck stop and present the fuel code to the truck stop clerk. The clerk will verify and activate the fuel code for your pump number. After the clerk activates your fuel code, you can tap the Open button to confirm your pump number: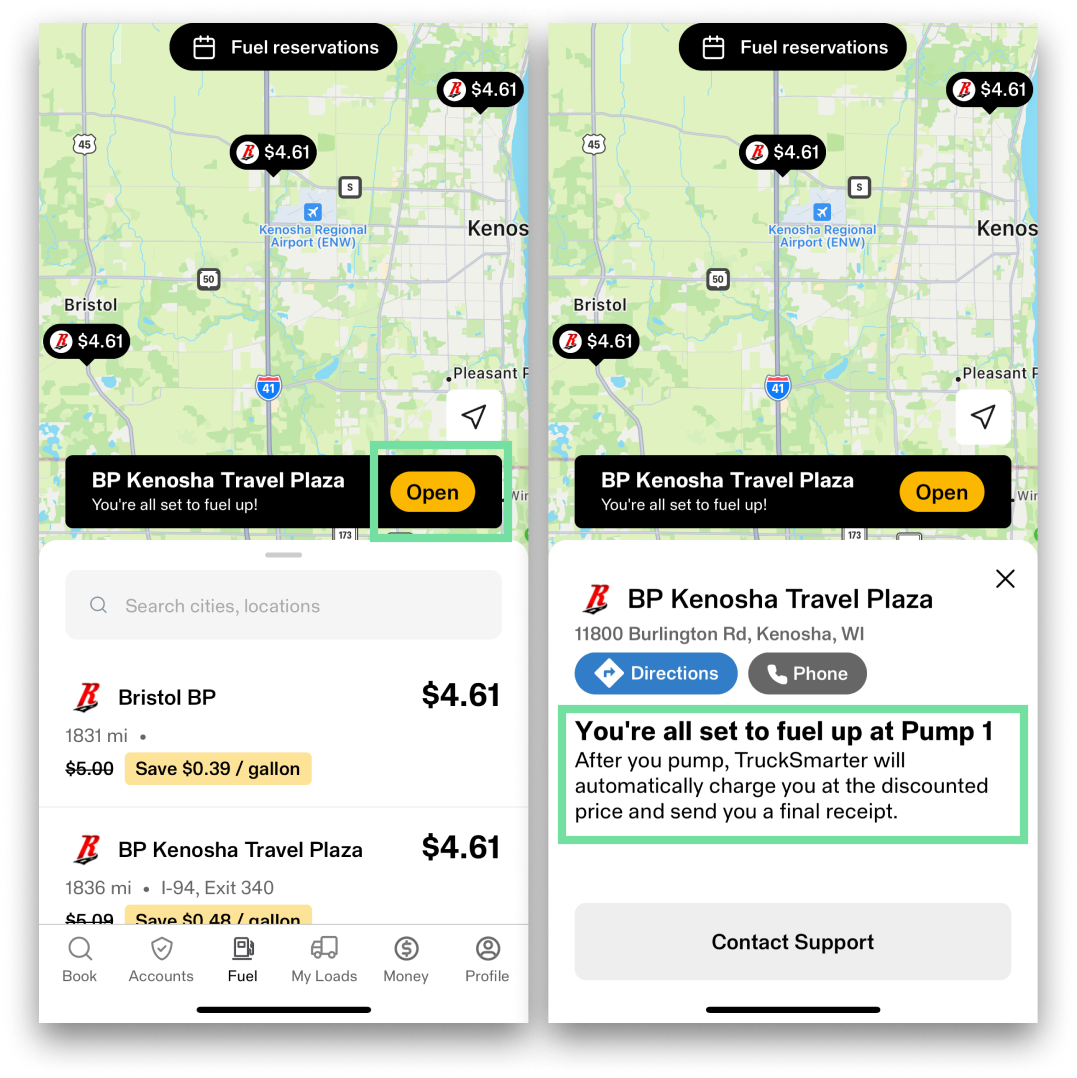 After filling up, return to the clerk to receive your receipt. Upon completion, the TruckSmarter app will display a confirmation that your fuel purchase has been successful. TruckSmarter will email and text the receipt to the contact details associated with your TruckSmarter account.
View reservations and email receipts
If you need to view active or past reservations, open the fuel map. At the top, tap the Fuel reservations button to view all of your reservations. If a reservation is active, you can open the reservation to see the fuel code. For past reservations, you can email the receipt or contact TruckSmarter Support if you need further assistance.
🧾 If you need an IFTA receipt, please contact TruckSmarter Support.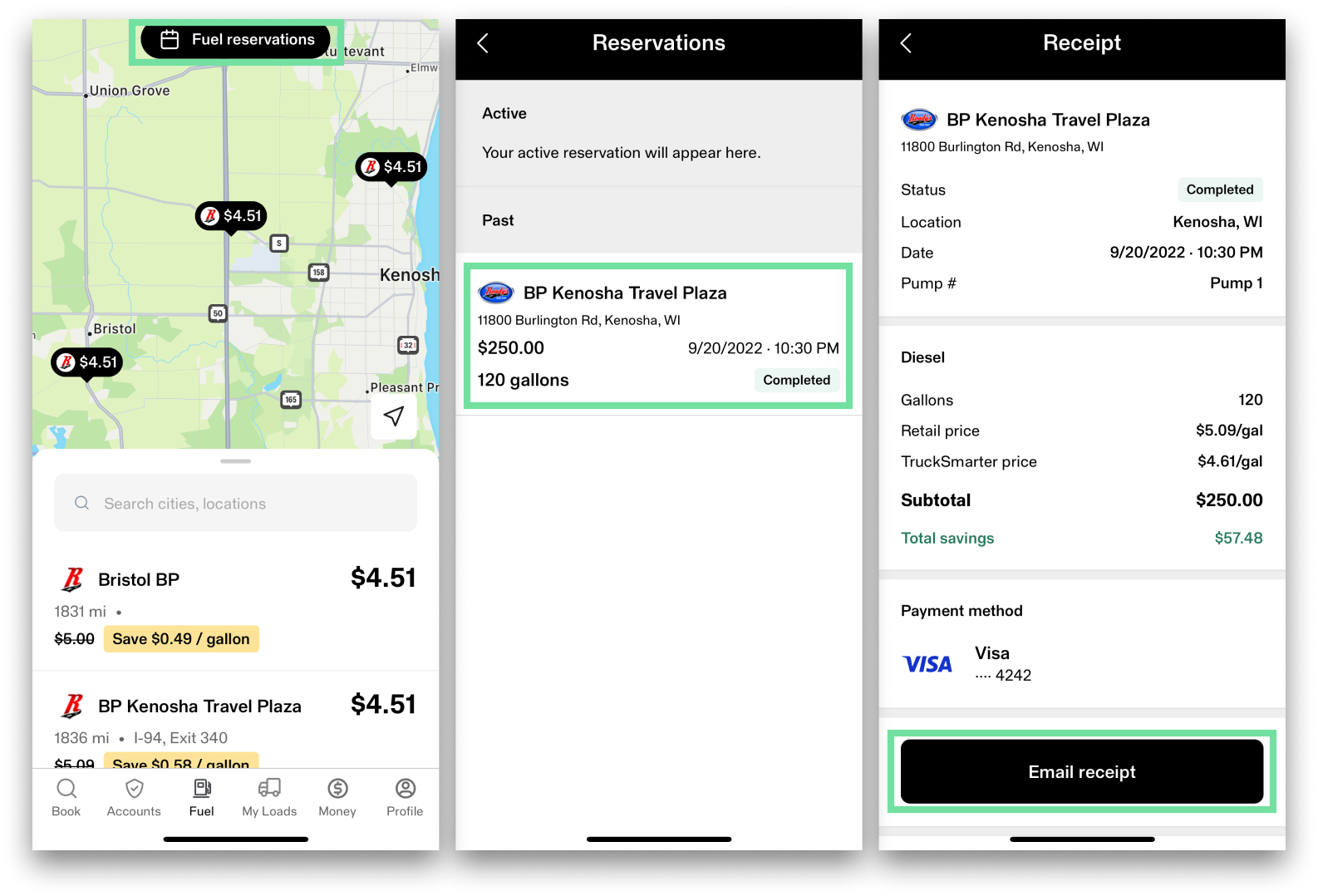 Canceling a reservation
You can easily cancel an active reservation by opening the reservation from either the Fuel map or the Reservations button.
⏳ After canceling a reservation, it will take 3-5 business days for your pre-authorization transaction to be reversed by your financial institution.
From the Fuel map directly: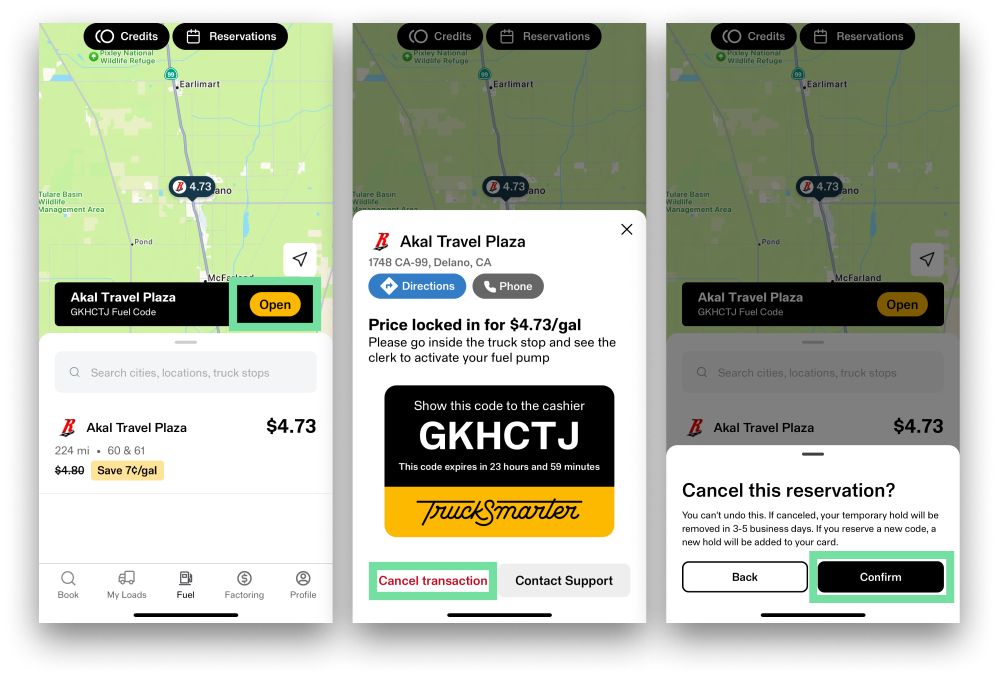 From the Reservations button: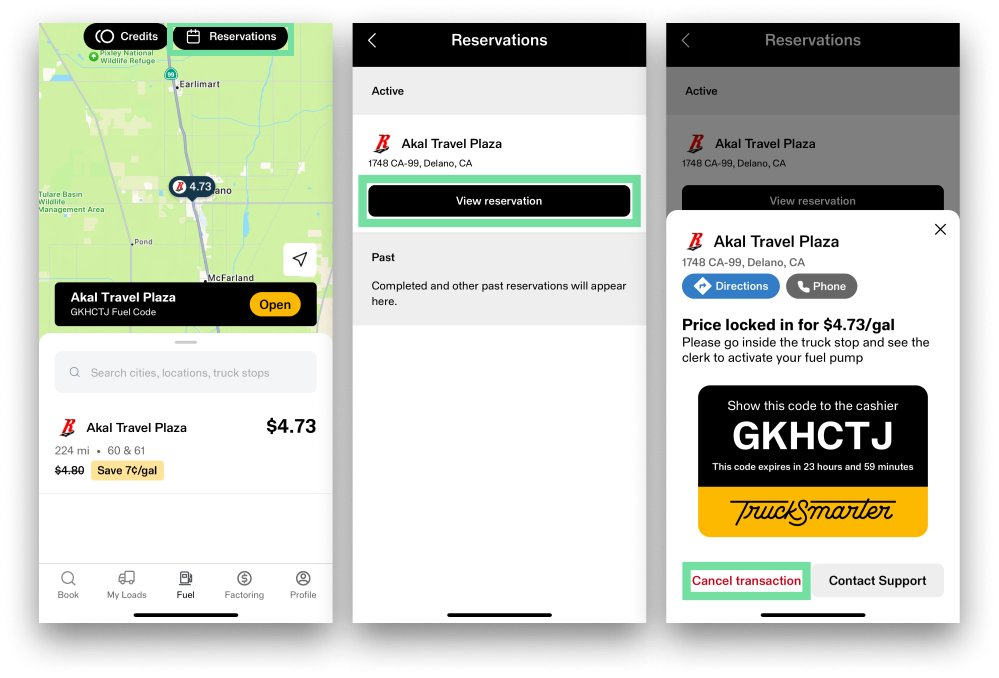 Reservation status
A fuel reservation can be in one of the following states:
| Status | Active/Past | Reason |
| --- | --- | --- |
| Active | Active | The fuel code has been created and is ready to be used. |
| Canceled | Past | The fuel code was canceled and can no longer be used. |
| Payment Pending | Past | The payment method used has not finished processing. |
| Payment Failed | Past | The fuel payment failed, please try another payment method. If the issue persists, please contact TruckSmarter Support from the app to troubleshoot the issue. |
| Expired | Past | The fuel code has expired and can no longer be used — fuel codes will automatically expire after 24 hours. |
| Completed | Past | The fuel reservation is complete and the payment has succeeded. |